Classes of 1968 to present
Westchester

High School

& Westchester Academy
In Memory
William James "Jim" Cotterell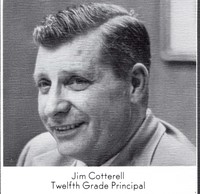 William James "Jim" Cotterell, III
BIRTH

Gainesville, Cooke County, Texas, USA

DEATH
4 May 1999 (aged 77)

Roosevelt, Kimble County, Texas, USA

BURIAL
MEMORIAL ID
111858750 · View Source
Date of death as submitted by Philip Klein - 05/04/1999.
We loved him as Class of 1977 grade level principal!
JUNCTION - W. Jim Cotterell, 77, of Junction died Tuesday, May 4, 1999, in a San Antonio hospital.
Service will be at 10 a.m. Saturday at Trinity Episcopal Church with burial in Junction Cemetery. Arrangements are by Graham Funeral Home.
He was born Sept. 1, 1921, in Houston and had lived in the Junction area for more than 20 years. He was employed by Exxon for 20 years, and was a high-school teacher, a pecan grower and a rancher. He was a member of Trinity Episcopal Church.
Survivors include his wife, Anne Rieck Cotterell of Junction; a son, W. Jamie Cotterell of Cedar Park; two daughters, Catherine Howell of Wimberley and Ricky Anne Dodd of Kingwood; a sister, Carol Chidley of Wasilla, Alaska; and seven grandchildren.
09/25/16 09:01 AM
#1

Mr C!!!!! Never before and never again would there be a man like him! Tough and disciplined but he had a heart of gold! He loved us all as though we were his own kids and he watched over us like a mother hen. He and "Crazy Legs" will never be forgotten!!!!
09/25/16 11:50 AM
#2

I can not believe he is gone! I always remember going to his house and having mulled cider with he and crazy legs....usually after we had wrapped it or signed it....always was so open to talk and be part of our lives..so sad to hear this💔💔💔💔
09/26/16 06:57 AM
#3

Sorry to hear about Jim. He was such a great person to work with.
09/26/16 06:58 AM
#4

Sorry to hear about Jim. He was such a great person to work with.
09/26/16 07:34 AM
#5

May he rest in peace.

They took me and the AFS student Paviki to their west Texas ranch where I shot my first and last gun. We spent several days there and I learned a lot about ranch life. And how armadillos play havoc on the land. He was a caring and attentive advisor.
09/26/16 01:03 PM
#6

So sorry to hear about the loss of Jim Cotterell. I just remembered that he was always there for everyone. Such a great spirit, attitude. He always took the time to talk, no matter how busy he was. He was truly concerned about each one of us. God Bless him! Our thoughts and prayers go out to him and his family!
09/26/16 01:05 PM
#7

I began to know Mr. Cotterell during our junior year when I was involved in student council. I started enjoying his advice so much that I literally skipped classes to go sit in his office to listen and learn. I'm sure he knew I was skipping class, but, after all, I was skipping class to learn more important things from him, so he didn't seem upset. He'd even write me an excuse to take back to class if I'd ask for one. On one such occasion, I walked into the class office while he was finishing some disciplinary matter with a "problem student." I could tell Mr. C was troubled when I sat down in his guest chair. He opened the top drawer of his desk, where a bunch of small, dirty black rocks were rolling around. He picked one up, handed it to me, and said, "Here, Scott, I want you to have this." While I said, "Thank you, Sir," I was thinking, "Okay, a dirty black rock--gosh, thanks." Then he explained how he picked them right off the ground at his ranch (he really loved that place). He told me that the rocks reminded him of how to deal with difficult people: "When you look at the surface, all you can see is the surface; but if you look in just the right light, everything becomes clear and you can see all the way through." That is pretty much a direct quote, and I have relied on Mr. Cotterell's wisdom countless times in my profession and personal life ever since. That black rock followed me through college and law school, sat on top of my office desks, and is now displayed prominently on the bookcase in my study at home. I can't tell you how many times I've lifted it to the light while trying to solve difficult problems. It's an Indian Tear Drop (also called an Apache Tear), and when you hold it up to the right light, it's so clear that you can see all the way through. Magical. I've taught the lesson to many other folks--from my kids to co-workers (basically, anyone who will listen)--and I love to see their first reactions when I hand them the dirty black rock and say, "This rock is like a difficult person... ."

When we were seniors, Mr. C joked that he was retiring as soon as we graduated because our class had worn him down so much that he just couldn't take it anymore! (At least I think he was joking!) Mr. Cotterell was one of those rare and special people whose essence was to mentor folks like us during critical years in our developing lives. We're blessed to have known him. The fact that his wisdom lives on and has touched so many people in positive ways stands as a fitting memorial to this great man.

All the best,

Scott Camp