Classes of 1968 to present
Westchester

High School

& Westchester Academy
ANNOUNCEMENTS
2018 Westchester Academy for International Studies Scholarship Receipents

The Westchester Alumni Association awarded six Westchester Academy International School graduating seniors $1,000 each at the Westchester Awards Night on Tuesday, May 15, 2018.

We are very proud to recognize the Class of 2018 Scholarship Recipients! Rachel Chan Morgan Howell Sonya Escobar Pineda Catalina Row Yamiletz Lucio Charlie Zong (not pictured)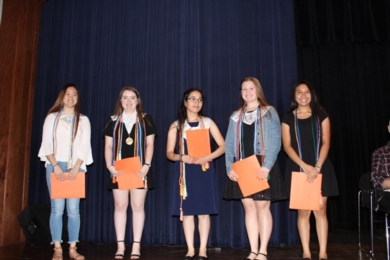 Congratulations to these exceptional seniors!
Applicants were evaluated on academic merit, ACT or SAT scores, extracurricular activities, awards, and community service.
Since 2007, the Westchester Alumni Association Student Scholarship Fund* has awarded $72,000 to 72 deserving, college bound Westchester Academy International School graduating seniors.
*Donations to the scholarship fund are accepted all year from Westchester alumni and corporate sponsors. To make your donation to the scholarship fund please visit www.westchesterwildcats.com and click on Scholarship Donation.
The Westchester Alumni Association was estalished in 2005 to unite all Westchester Senior High Schools and Westchester Academy for International Studies alumni. Members have the opportunities to connect with former classmates to support our scholarship programs and conntinue thier Wildcat Pride!
50th Anniversary Celebration for Westchester
Dear Classmates and Faculty,
How many of these "fun facts" do you know?
This month marks the 50th anniversary of the first graduating class of Westchester High School – the Class of 1968!
50 years ago this past fall, Westchester High School opened its doors to the first four classes of 1968, 1969, 1970, and 1971, and a wonderful team of teachers and administrative staff members.
In 1970, just 3 years after the school's opening, our fabulous marching band, under the direction of John Hammerle, and our award-winning drill team the Wranglerettes, under the direction of Anne Oaks, were asked to perform in the Macy's Thanksgiving Parade in New York! (Check out the video of this trip on our alumni website under High School Pictures or by following this link: (http://www.westchesterwildcats.com/class_custom8.cfm)
To honor the above 50th anniversary milestones and to possibly include other milestone reunion celebrations, such as the 45th for the WHS Class of '73, the 40th for the WHS Class of '78, the 35th for the WHS Class of '83, and the 10th reunion for the WAIS Class of 2008, your alumni Board of Directors recommends that we have a much larger celebration than our usual all-alumni events! To start with, we are calling it our "Westchester 50th Anniversary." We are making preliminary arrangements to host the event on October 20th at a hotel venue. Usually, membership dues collected throughout the year are used for our events for all alumni. For an event like this, the fees we have collected will not begin to cover the cost. To continue our tradition of not charging any fee for attending we are reaching out to you and asking that the cost of this special celebration be underwritten by those who can contribute so that everyone will have the opportunity to attend without an event fee. At this time, the costs for our celebration are estimated to be as follows:
Hotel Venue - $4,000 - 8,000 (depending on participation)
Band - $3,000
Decorations - $500
Printing - $500
If you feel as we do that this Westchester 50th Anniversary celebration should be treated with great significance and you can help underwrite the cost of the occasion, we must have your donation by June 1 so that we can finalize the commitments to secure the venue, band, etc. The names of all who help underwrite this event will be included in our event program. (If not enough funds are donated, we will return the donations we have received and make alternative plans.) Donations can be made by check or by credit card. To donate (whether it be $25, $50, $100, $500, $1,000 or more), please use the form that will be sent in a separate email to either mail a check or to call, fax, or email your credit card information.
Best regards,
WAA Board of Directors
"Through tall and stately arches
Comes a spirit we hold dear,
To guide us in our future
Whether we be far or near.
We'll not forget the happy years
With friends both loyal and true.
So as we sing, let praises ring,
Westchester, for you."

If you wish to make a donation to the Westchester Alumni Association's Student Scholarship Fund please follow the instructions below.
Electronic Donations
Electronic tax deductible scholarship donations may be made online using a credit card by clicking the orange button below.

After clicking on the button you will be transferred to a webpage hosted by the Spring Branch Independent School District.

A list of donation choices will appear on the webpage. The

Westchester Alumni Association Scholarship Fund (WAA)

is the 8th item on the list.

Please click the donate button beside the WAA name and follow the further instructions on the site. You do not need a PayPal Account to donate you can use your personal credit card.

Donations by Check:
Checks can be mailed to the Westchester Alumni Association at:
Westchester Alumni Association, Inc.
Westchester Student Scholarship Fund
5373 West Alabama Street, Suite 209 Houston, TX 77056-5923
~~~~~~~~~~~~~~~~~~~~~~~~~~~~~~~~~~~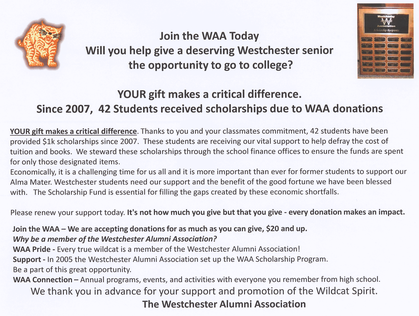 ---
National Hsipanic Scholars Recognition
Seventeen SBISD students were named finalists in the annual National Hispanic Recognition program. These students, also known as National Hispanic Scholars, include
Westchester Academy for International Studies two finalists in this category Adam Kassir and Jabob Saenz.
To earn this highly regarded recognition, students must be at least one-quarter of Hispanic/Latino descent, attain a high performance level on the PSAT, and have a GPA of 3.0 or higher at the end of their junior year. About 5,000 students nationally earn this recognition.
---
Westchester is now authorized to offer International Baccalaureate (IB) Programme for Grades SIX through Twelve!!
Only 13 schools in the state of Texas offer both middle school and high school programs.
Many consider the IB curriculum the best curriculum in the world.
Shaun Wegscheid (a Westchester grad and now faculty member at Westchester) worked alongside many other Westchester staff members to bring this excellent opportunity to Westchester students.
http://www.yourhoustonnews.com/memorial/living/westchester-academy-for-international-studies-authorized-to-offer-international-baccalaureate/article_1409e3b7-d357-51e0-8952-f9d4c709f2cf.html
---