Classes of 1968 to present
Westchester

High School

& Westchester Academy
ANNOUNCEMENTS
Hello Class of '70! PLEASE COME IF YOU POSSIBLY CAN, if even for just an afternoon or evening! I think we've come up with a weekend chock-full of good times that you will forever remember.. and if you know of other classmates out there that we haven't been able to find, could you please pass this on? looking forward to fun times with y'all!


http://www.evite.com/event/01E6IOBNWRN5VURVCEPFLZ2DBWMJNM?utm_medium=sharable_invite&utm_campaign=send_sharable_link&utm_source=facebook&cb=758613890
ATTENTION Class of '70! Here's an update on our 45th reunion plans...Alyson Grice finished creating a survey for you all to choose your preferred date. Kuddos to Alyson for all her work on this so far...many of you have expressed an interest in the Chappell Hill ranch location she found for our reunion, which I think we'll all enjoy! We just need to know your preferred date in order to make this work for as many of us as possible! Could you please complete the survey you see in the link below? and please also forward to any of our classmates who might not see this announcement. Finally, is there anyone out there who would like to join our planning committee?? Here's looking forward to a wonderful 45th reunion!
https://www.surveymonkey.com/r/8MN9B3K
Please contact me at janet@stellarteachingsolutions.com for more info!

If you wish to make a donation to the Westchester Alumni Association's Student Scholarship Fund please follow the instructions below.
Electronic Donations
Electronic tax deductible scholarship donations may be made online using a credit card by clicking the orange button below.

After clicking on the button you will be transferred to a webpage hosted by the Spring Branch Independent School District.

A list of donation choices will appear on the webpage. The

Westchester Alumni Association Scholarship Fund (WAA) is the 8th item on the list.

Please click the donate button beside the WAA name and follow the further instructions on the site. You do not need a PayPal Account to donate you can use your personal credit card.

Donations by Check:
Checks can be mailed to the Westchester Alumni Association at:
Westchester Alumni Association, Inc.
Westchester Student Scholarship Fund
5373 West Alabama Street, Suite 209 Houston, TX 77056-5923
~~~~~~~~~~~~~~~~~~~~~~~~~~~~~~~~~~~
WESTCHESTER HIGH SCHOOL
AND
WESTCHESTER ACADEMY FOR
INTERNATIONAL STUDIES
ALL Westchester Alumni
are invited to
Westchester Alumni Associations'
Big Fall Event
SPREAD THE WORD!!
Fellow Wildcats,
I am pleased to announce that this year's "Big Fall Event" will be held at Clay's Restaurant, 17717 Clay Rd., 77084, on Friday, October 30th starting at 6 PM. Owner and Westchester grad, Damian Seaback has been hosting our events since WAA's inception and we appreciate his hospitality! He has reserved the back pavilion for us and providing $2 margaritas and half price appetizers. Since this is the day before Halloween costumes are optional but we would be pleased if you wore one!
We've had some really awesome events at Clay's so save the date for our BIG ALL CLASS REUNION and tell your Westchester buddies! For more information about the venue go to www.claysrestaurant.com and please visit our website www.WestchesterWildcats.com.
If you want to attend customed as a 'Westchester Alumni' you might find an appropriate 'costume' at our Westchester Alumni Association store. Shirts, coffee mugs, baseball caps, Active wear are all available on the site. A portion of the cost goes to the Scholarship Funds.
Westchester Alumni Association Store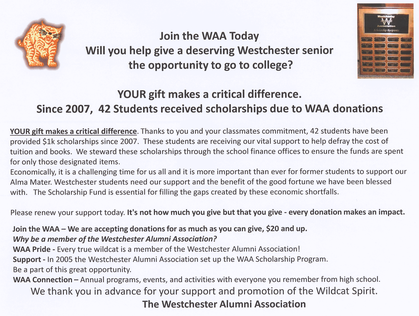 ---
National Hsipanic Scholars Recognition
Seventeen SBISD students were named finalists in the annual National Hispanic Recognition program. These students, also known as National Hispanic Scholars, include
Westchester Academy for International Studies two finalists in this category Adam Kassir and Jabob Saenz.
To earn this highly regarded recognition, students must be at least one-quarter of Hispanic/Latino descent, attain a high performance level on the PSAT, and have a GPA of 3.0 or higher at the end of their junior year. About 5,000 students nationally earn this recognition.
---
Westchester is now authorized to offer International Baccalaureate (IB) Programme for Grades SIX through Twelve!!
Only 13 schools in the state of Texas offer both middle school and high school programs.
Many consider the IB curriculum the best curriculum in the world.
Shaun Wegscheid (a Westchester grad and now faculty member at Westchester) worked alongside many other Westchester staff members to bring this excellent opportunity to Westchester students.
http://www.yourhoustonnews.com/memorial/living/westchester-academy-for-international-studies-authorized-to-offer-international-baccalaureate/article_1409e3b7-d357-51e0-8952-f9d4c709f2cf.html
---